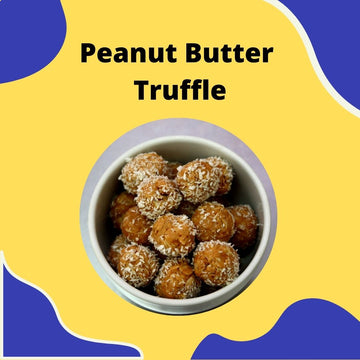 This is an easy treat that anyone can make at home, especially suited for the busy dog parents in today's world.
Peanut Butter Truffle
Prep time: 15 minutes
Makes roughly 10 small truffles or 5 large truffles
Ingredients:
1/3 cup Rolled Oats
3 - 4 Tablespoon Barking Nuts Smooth Peanut Butter
1 Tablespoon Water
¼ Teaspoon cinnamon powder (optional)
Desiccated Coconut for Rolling (As Needed)
Steps:
In a bowl, combine oats, peanut butter and cinnamon powder and mix evenly using a spatula.
Add water slowly whilst mixing to bring the dough together.
Once it is all mixed, scoop the dough out by hand/spoon.
You will find that the mixture will fall apart easily when trying to roll it into a ball. Don't worry. Just keep pressing with your fingers till it clumps together. When it's ready, roll it between your palms to get it into a nice round ball shape
You can roll your peanut butter truffle into any size according to the size of your furkid.
After you have formed all the truffle balls, you can leave it as it is, or coat it with the following optional ingredients:
Carob powder
Desiccated coconut
Vegetable powder (beetroot powder, goji berry powder and so on)
Store these babies in an air tight container in the fridge. They should be able to keep for up to 2 weeks before they become dry. But trust me; it'll be finished in no time.
Tip/Hint:
Do make sure you use a sugar free and salt free peanut butter when making these for your furkid
Barking Nuts Smooth Peanut Butter is a peanut butter that is safe for pets as it has ZERO Salt, sugar and preservatives.
You can use fresh shredded coconut instead of desiccated coconut. But they do spoil faster.