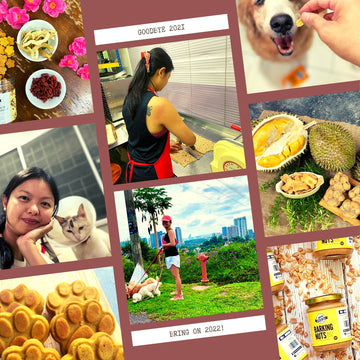 As we have just entered into the new year of 2022, I would like to take this time to reflect and share how had 2021 been for us at Barkery Oven.
For many of us, 2021 was a year of countless uncertainties. Personally, I had gone through some mentally low moments too. However, I had also experienced some good moments as well as breakthroughs in sales and finding success in several projects.
Among the successful projects in 2021 were the launch of Barkery Oven's new seasonal products such as the Pineapple Tarts for Chinese New Year and the Durian Collection. At the same time, it would be the soon-to-launch Fresh Food for Pets concept store that we have managed to pull off with the help of our supportive retailer, Pet Lover Centre. That said, the concept store is still a work in progress but do stay tuned for its official opening in the coming months.
Nevertheless, 2021 had also brought us challenges that Barkery Oven had to endure. One key lesson that I learned throughout 2021 was that the show must go on! So, no matter how down I felt, I reminded myself to always be thankful that I have a purpose to wake up to – to continue creating healthy and delicious treats for cats and dogs. At the same time, ensure all #BarkeryFans' orders are fulfilled with no delays so that your Very Important Pets get their well-deserved treats!
Another lesson that I learned last year is that anything can happen, and planning is important, however, flexibility is a MUST. I am learning every day to plan ahead while learning how to be flexible to adapt or pivot whenever a situation requires me to.
And as we enter into the new year, I would like to give my thanks and gratitude for the continuous support from our regular #BarkeryFans as well as to the small team that has worked unfailingly throughout the years and the pandemic.
So, what is in store for us at Barkery Oven? Well, we ended 2021 with some exciting news – we signed on a new retailer, and we are just about to embark on a new project. So, 2022 is looking pretty exciting for us as of now.
I am also looking into improving our kitchen facilities as well as gaining more and new knowledge in pet nutrition in order to produce healthier and delicious treats for your furbabies.
Thus, for this year – despite whatever challenges it may bring, Barkery Oven and I will continue to push hard to achieve our purpose – creating nutritious and delectable treats for cats and dogs!