News, Stories, and Updates
Barkery Oven Christmas Spotlights: 7 Awesome Local Pet Brands to Spoil Your Furbabies this Christmas
by Kevin Wong on Dec 11, 2021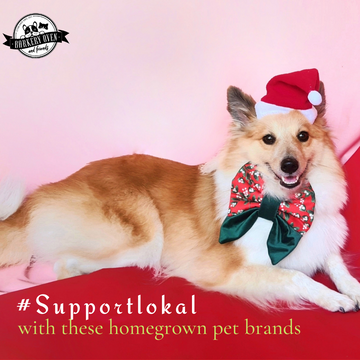 Christmas is finally here! And yes, this is a gentle reminder to check whether you have bought your furbabies their Christmas present!
And if you have yet to get any or you would like to spoil them a little bit more this Christmas, don't worry as we have some suggestions for you.
And in light of what we have all gone through the last two years, we would like to encourage everyone to #Supportlokal this Christmas. That said, here are 7 awesome homegrown pet brands that you can choose to spoil your pets this Christmas.
1. Deria Skin and Fragrances
Deria Skin and Fragrances is the only pet skincare brand in Malaysia that fuses home-brewed kombucha tea into their pet shampoo bars and conditioner. They are strong advocates of using natural skincare products to strengthen the immunity of a pet's (dogs and cats) skin and fur.
At the same time, they sell home-brewed fermented green tea for pets where it contains probiotics and organic acids that are beneficial in aiding digestion and inflammation.
2. Fetch 
Fetch is the first subscription platform in Malaysia that gives pet owners the benefit of allocating fresh and healthy pet food as well as products with the convenience of shopping online.
Fetch subscription service provides ease of mind especially when it comes to purchasing food and treats for your pets as pet owners are able to choose either a week, two weeks or four weeks subscription. It saves the hassle of having to head out to the pet store every so often as Fetch will deliver right to your doorstep.
 3. Hakoneko
Cat parents, it is time to fashion up your feline babies with Hakoneko's handmade accessories for the new year! Your furbabies would probably "appreciate" the gift but certainly, they will look all fancy and adorable once you put it on them.
 4. Hijau Philosophy
Hijau Philosophy specializes in pure, therapeutic standards of essential oils, aromatherapy products as well as handcrafted soaps. Additionally, they also sell a range of essential oil for pets where they use all-natural ingredients and are pet friendly. So, while you shop for your personal wellness, you can also shop for your furbabies too!
 5. Lolly & Laine
Lolly & Laine is a homegrown brand that aims to make pet products as beautiful as they are functional as they believe your furbabies and you deserve the best. Their accessories include bows, bandanas as well as toys. 
So, stop hesitating and start styling your furbabies! Also, if you want to "twin" with your pets, Lolly & Laine sells matching accessories such as bows, hair barrettes and scarves.
6. The Happy Fluff
Let's get fancy with The Happy Fluff as they sell their very own hand-sewn batik and songket inspired collars, headbands and scarfs for your furbabies. If you prefer something more local for pets' accessories, you'd be spoilt for choices.
In addition, if you're looking for skin and fur products, The Happy Fluff has their own range of natural pet care which includes their very own Skin Soothe Spray, Pure Pooch Protection Spray and Plushy Pooch Shampoo Bar.
7. The Meat Bar
The Meat Bar is a local pet brand that specializes in making freeze-dried healthy and all-natural supplementary treats for both cats and dogs. So, if you have a fussy eater, do consider The Meat Bar as their treats can also be used as toppers to meals or reconstituted in water.