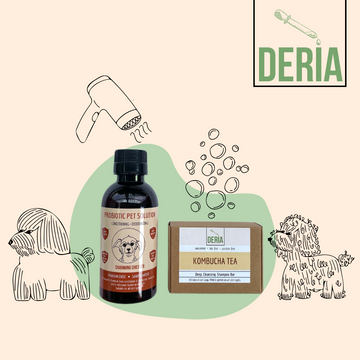 Kombucha, the fizzy sweet-and-sour health drink that is made with black tea has grown in popularity over the years due to its claimed health benefits such as aiding digestions, getting rid of toxins from our bodies and boosting energy.
That said, do you know that Kombucha is also good for your dogs' skin? It can be used as a shampoo bar to bathe them or as a refreshing drink for your dogs to enjoy.
To learn more about Kombucha shampoo bar for dogs, we had the opportunity to speak with Christina Lim, the co-founder of Deria Skin & Fragrances where she talked about how she was inspired to develop her product line of Kombucha shampoo bars for dogs and its benefits.
Barkery Oven: What inspired you to develop the Kombucha product line for dogs' skin care? How did you stumble upon this idea? And why Kombucha of all things?
Christina Lim: Being in the pet grooming industry together with my sister for over a decade, we have been constantly searching for a pet skin care range that does not only do its cleansing job on pets' skin and fur but one that does not dry their skin.
From our experiences using commercialized pet shampoo, we noticed our hands became dry as we use them on a daily basis to bathe pets.
In 2017, when we were caring for an abandoned golden retriever, whom we named Biggie, came to us with horrendous skin condition, it was then we started looking into developing our own pet skin care products.
We did not want to use commercialized pet shampoo as his skin was really dry and was also emitting strong body odor due to his untreated skin issue.
At the same time, we had recently stumbled upon Kombucha and started to brew it ourselves as a health drink. Kombucha is known to have a natural source of probiotics, rich in Vitamin B, antioxidants and has antibacterial elements. In addition, we came to know that there are Kombucha skin care products for us, hence we thought why not we develop Kombucha skin care product line for pets as well.
From the get-go, we knew the only catch to Kombucha is its pungent smell due to its fermentation process, something that is not pleasant when applied on the skin. Hence, we decided on using essential oils instead of fragrance or perfume which can trigger skin irritation for dogs.
We did our research on the essential oils and the benefits on the skin and chose those that are safe for pets and combine it with the Kombucha to develop our product line of Probiotic Conditioning Solution.
It helped to reduce Biggie's odor however, he still had the hint of the odor when he was still using a regular scented shampoo. And because of this, I was determined to develop our own pet shampoo that does not dry our pets' skin and hands.
That said, I enrolled myself in a soap formulating class, did my own research and development and formulated our very own
Kombucha
Deep
Cleansing
Shampoo
bar
.
Since then, many pet owners have asked why we did not develop liquid shampoo. Well, the reason is because shampoo bars are made with lesser chemicals as compared to liquid shampoo.
Our Kombucha Shampoo Bar is made with natural plant oils and no fragrance, so it is really suitable for all skin types, especially sensitive skin.
One unexpected finding was that using an unscented shampoo on Biggie actually effectively removed his body odour. 
Barkery Oven: What benefits do Kombucha have for our dogs' fur and skin?
Christina: Kombucha has antibacterial and hydrating properties, thus promoting healthy, radiant skin. And because kombucha is acidic, it neutralizes the alkalinity of the shampoo when applied after bath, making our dog's skin and fur soft and fluffy.
With the combination of kombucha and different essential oil blends, our Probiotic Pet Solution soothes the skin and to some extent, promotes skin healing. Our Deria Kombucha pet skin care helps to restore skin hydration and hence strengthening the skin immunity of our dogs.
Barkery Oven: How should we apply the Kombucha solution and how often should we do so?
Christina: Each Kombucha Shampoo Bar comes with a complimentary soap pouch, which makes it super easy to lather the bar and wash our pets. It is also exfoliating to use the bar in the pouch as we use it to give our pet a good scrub.
After rinsing off the shampoo, towel dry your pet first. Then, apply our Probiotic Pet Solution all over the body and massage into their skin. Our pets always enjoy a good deep tissue massage.
After that, blow dry your pet for better results. Then, drizzle some of the Probiotic Pet Solution onto cotton pads and clean their ears.
Barkery Oven: In addition to your Kombucha solution, what would you advise dog owners to help them keep their dogs' skin and fur healthy and strong?
Christina: Besides using the right skin care, we always advocate feeding our pets a balanced, species-appropriate diet. Being a raw feeder for many years now, we have witnessed life-changing effects in our pets and in our customers' pets who have switched to feeding a balanced fresh diet and essential supplements like probiotics.
That said, if you're thinking of getting a shampoo that would strengthen the health of your dog's skin and fur, you may purchase Deria Kombucha Deep Cleansing Shampoo Bar
here
or purchase Deria: Starter Set which includes a Kombucha Deep Cleansing Bar and a 200ml bottle of Probiotic Pet Conditioning Solution
here
with the option of choosing your preferred essential oil.